------------------------------------------------------------------------------------------------------------
<![if !vml]>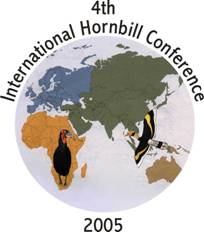 <![endif]>
FOURTH INTERNATIONAL HORNBILL CONFERENCE
MABULA GAME LODGE, SOUTH AFRICA
7-9 NOVEMBER 2005
The Ground Hornbill Research and Conservation Project and Three Cities Game Lodges, South Africa, and the Hornbill Research Foundation, Thailand, will host the Fourth International Hornbill Conference at Mabula Game Lodge, South Africa, during the period 7-9 November 2005. The scientific programme will cover two days, followed by a one-day workshop for the World Hornbill Specialist Group of IUCN and Birdlife International. The scientific programme will be coordinated by Dr Alan Kemp (ex Transvaal Museum, South Africa), Prof Pilai Poonswad (Mahidol University, Thailand) and Dr Christine Sheppard (Bronx Zoo, New York).
The conference organizers are hoping to raise sponsorship to invite keynote speakers and also to assist delegates from other hornbill-occupied countries and local communities to attend the Conference.
The main goal of this conference is to provide all people studying or interested in hornbills with an opportunity to share their ideas. The proceedings of the conference results will be made available within six months of the meeting in CD-ROM format.
The principal theme of the conference is "The Active Management of Hornbills and their Habitats for Conservation". This will include sessions on capture and marking, genetic analysis, provision of nest boxes, supplementation of food, captive breeding and husbandry, reintroduction and translocation, comparison with sympatric species, and habitat analysis and alteration. However, there will also be a general session to report on new information for other aspects of hornbill biology. A separate one-day workshop by the IUCN and Birdlife Hornbill Specialist Group will focus on population status and viability analysis, so as to identify problems and priorities for conservation action.
Mabula Game Lodge is only two hours drive north of Johannesburg International Airport. It provides full conference and accommodation facilities for at least 120 delegates and their families, set in a malaria-free wilderness that supports the Big Five mammals and many bird species (see http://www.mabula.com). Mabula is also home to the Ground Hornbill Research & Conservation Project, an initiative that studies conservation management of the species, harvests surplus chicks from the wild and reintroduces them into parts of their former range. Time will be provided within the conference programme for visits to this project and for game drives at dawn and dusk.
PRE- AND POST-CONFERENCE EXCURSIONS
Pre- and post-congress excursions will visit some of the most arid habitats in the world that are occupied by hornbills, as well as many other interesting species of birds and mammals. In Namibia, this will include areas with Monteiro's Hornbill, Bradfield's Hornbill and the newly described Damaraland Red-billed Hornbill, and the excursion will also visits the internationally famous Namib Desert, Waterberg and Etosha National Parks. A second excursion will travel through the vast Kruger National Park, where all three genera of African hornbills may be encountered, especially the Southern Ground Hornbill, the largest hornbill species in the world, and it will also visit Ndumu Game Reserve in Maputaland, a good area for coastal forest species such as Trumpeter and Crowned Hornbills.
A valid passport is required for travel. The Visa entry requirements for South Africa vary according to your country of origin. Please contact your South African and Namibian Embassies for details.
The language for presentation and posters will be in English.
If you are interested in attending this conference please fill in the attached reply form and send it to any of the contact addresses below (preferably the e-mail address):
Email: [email protected]
Fax: +27 14 734 0013
Postal:
Hornbill Conference 2005
c/o The Ground Hornbill Project
Mabula Game Lodge,
Private Bag X 1655,
Bela-Bela, 0480
Limpopo Province,
South Africa.
Organizing Committee - Tel: +27 83 7344270
Meg and Alan Kemp
Avril Booth
Ann Turner
FOURTH INTERNATIONAL HORNBILL CONFERENCE
MABULA GAME LODGE, SOUTH AFRICA
7-9 NOVEMBER 2005
(Please note that the follow up circular and details of the pre- and post excursions will only be sent by mid 2005)
Name:
Organization:
Address:
Country:
Code:
Telephone:
Fax:
e-mail address:
I would like to receive further circulars regarding this Conference                       YES/NO
I would like further details of the PRE/POST-CONGRESS EXCURSIONS            YES/NO
Will you present a paper or poster at the conference?                            YES/NO
Tentative title:
If you present a paper/poster will you need assistance to attend?                        YES/NO
Can you suggest any avenues of sponsorship to assist the conference organizers?
e-mail to: [email protected]